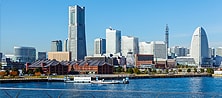 Transpacific cruises represent a variety of sailing options. Enjoy the contrast of the Pacific Northwest and Japan in just ten days sailing across the north Pacific. Or, take a longer trip across the southern Pacific from Los Angeles and visit Hawaii, Tahiti, Fiji, New Caledonia and Australia. Would you rather visit China or New Zealand? Would you rather sun in Mexico or shop in Seattle? Transpacific cruises visit a variety of ports and can last from ten to thirty-four days. Where you go, and for how long, are up to you.
Select a different Destination.
Cruise Pricing Terms and Conditions
Fares shown are per person, based on double occupancy and may not include government taxes and fees. Images shown are representative only. From prices are based upon the lowest fare and are subject to availability. Your exact price depends upon selected day of departure, departure city, ship, cabin level and class of airfare available. Rates for third and fourth passengers are not shown. All prices and dates are subject to availability. All offers and upgrades are for selected dates, sailings, and cabin categories only, are subject to availability, and are capacity controlled. All prices and dates may not be available at time of booking. All information is subject to change without notice. We reserve the right to correct errors.
Want More Exciting Offers?
Subscribe now to our news letter!