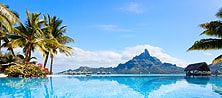 The Pacific Ocean has more than eleven million square miles of ocean dotted with islands, some no larger than a suburban back yard. The names themselves conjure up images of times past, great voyages of discovery and pitched battles, now etched in history – Cook Islands, Fiji, Kiribati, New Caledonia, Niue, Papua New Guinea, Solomon Islands, Tahiti, Tonga, Tuvalu, Vanuatu and Samoa – they all have a charm and allure which has attracted explorers, adventurers and fortune seekers since the dawn of time. Thirteen island nations, with a total population of just over 6 million people offer so much to see and do. Going on a cruise to the rich and diverse South Pacific will let you experience the enchanting islands and beautiful people that for hundreds of years stirred the mind and excited the imagination.
Select a different Destination.
Cruise Pricing Terms and Conditions
Fares shown are per person, based on double occupancy and may not include government taxes and fees. Images shown are representative only. From prices are based upon the lowest fare and are subject to availability. Your exact price depends upon selected day of departure, departure city, ship, cabin level and class of airfare available. Rates for third and fourth passengers are not shown. All prices and dates are subject to availability. All offers and upgrades are for selected dates, sailings, and cabin categories only, are subject to availability, and are capacity controlled. All prices and dates may not be available at time of booking. All information is subject to change without notice. We reserve the right to correct errors.
Want More Exciting Offers?
Subscribe now to our news letter!