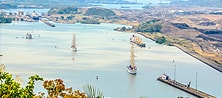 Slice through Central America via the most famous canal in the world. With more than 900 species of birds, 10,000 species of plants, 1,350 plants and animals indigenous to the country and more species of mammals and amphibians than any other Central American country, Panama has one of the richest tropical environments on earth. Follow the footsteps of the conquistadors and immerse yourself in Panama"s rich ecological and cultural diversity.
Select a different Destination.
Cruise Pricing Terms and Conditions
Fares shown are per person, based on double occupancy and may not include government taxes and fees. Images shown are representative only. From prices are based upon the lowest fare and are subject to availability. Your exact price depends upon selected day of departure, departure city, ship, cabin level and class of airfare available. Rates for third and fourth passengers are not shown. All prices and dates are subject to availability. All offers and upgrades are for selected dates, sailings, and cabin categories only, are subject to availability and are capacity controlled. All prices and dates may not be available at time of booking. All information is subject to change without notice. We reserve the right to correct errors.
Want More Exciting Offers?
Subscribe now to our news letter!